ORIGINAL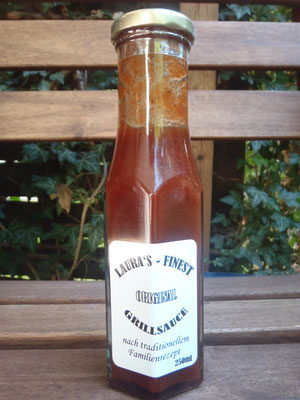 Laura's Finest "Original" Barbecue Sauce has the taste and ingredients very similar to my dad's original sauce. So everyone who knows my dads sauce can imagine how it tastes.It was first concocted by my father in the family kitchen back in 1982 for a private barbecue and has been seen at pretty much every garden party ever since!

The "Original" barbecue sauce goes best with seasoned or unseasoned meat, such as beef, pork and poultry but it also tastes delicious with spare ribs. It's also very well suited as an accompaniment to both raw and
barbecued vegetables.
 
With a mild heat, it's full of tomatoes and spices mixed with the
sweetness of honey.
Ingredients:
Ketchup (
Try our different tastes