SWEET CHILI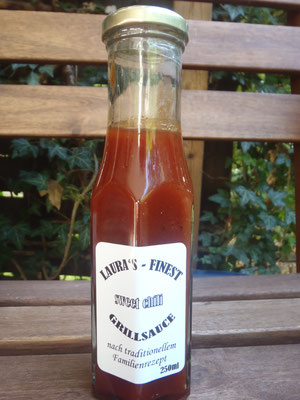 Laura's Finest "Sweet Chili" Barbecue Sauce is exactly that, the sweet chilli one of the trio of sauces.
This variation is hotter and sweeter than both of the others. When you first taste it, you think it tastes a little sweet but the aftertaste is definitely when the the strong heat from the chilies kicks in. The expertly blended ingredients give the sauce that extra something.
"Sweet Chili" is very well suited to all types of barbecued meat, along with vegetables and burgers.
If you don't normally like your food that hot, exercise caution here!
Very sweet, very hot, full of tomatoes, spices and chili pepper.
Ingredients:
Ketchup (
Try our other tastes